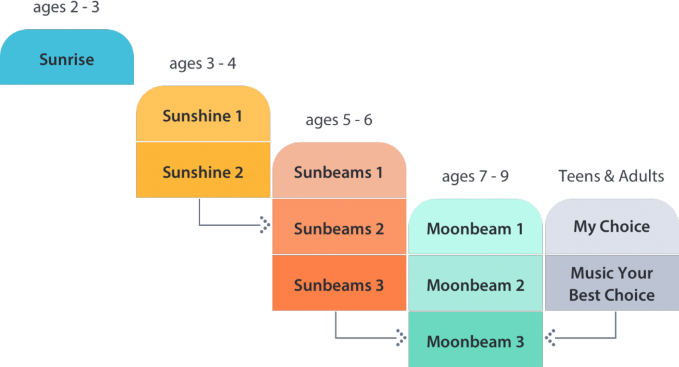 MYC has several starting points, and overlaps to allow flexibility as students progresses
Music For Young Children Program
Our studio has demonstrated over the years, that group classes for beginners provide a powerful, solid foundation for children. Our program has three levels of intake to provide age appropriate starts, and each level is a full year course in a well- rounded curriculum with supporting materials. Children will learn the foundations of reading, harmony, fluid hand position, composition, ear training and theory in a joyful supportive environment.
Confidence in performance is established through informal performances in the classroom, before students perform in the two recitals held each year. Before children complete the program, they are introduced to the Royal Conservatory program, or if they prefer , we have a jazz music program from Conservatory Canada. If they choose, they may even complete an exam!!
Students also have the opportunity to enjoy duets and ensembles with each other.






Sunshine
Children ages 3-4 can start here accompanied by their parents.
Reading: Pictured above are the manipulatives we use to help even very young children learn to notate music. Each type of rhythm has its own puppet and a song to go with it. Notes are taught with a cast of critters that lead to note reading on the staff. Students learn to play simple scales- and harmonize them.
Theory: There are lots of theory games and fun songs to keep little people busy.
Movement: Classes are fast paced with constant movement from the keyboard to the floor and back to avoid restlessness. Concepts are reinforced with action songs.
Practicing:
There is a CD to take home. Practicing starts by listening to the CD, then progresses to playing along with rhythm instruments, and finally the piano. By the end of the course students are able to sit for short periods and play the piano. However, they have learned a great deal more than just the keyboard and as they mature this knowledge gives them a huge leg up in further instrumental study.
Price:
(prices being updated for 2023- TBA)
Registration (Materials) $226.16
Tuition $748.00 for 34 lessons in the year
Time:
Saturday at 9:00
((prices being updateMondaysMoMondays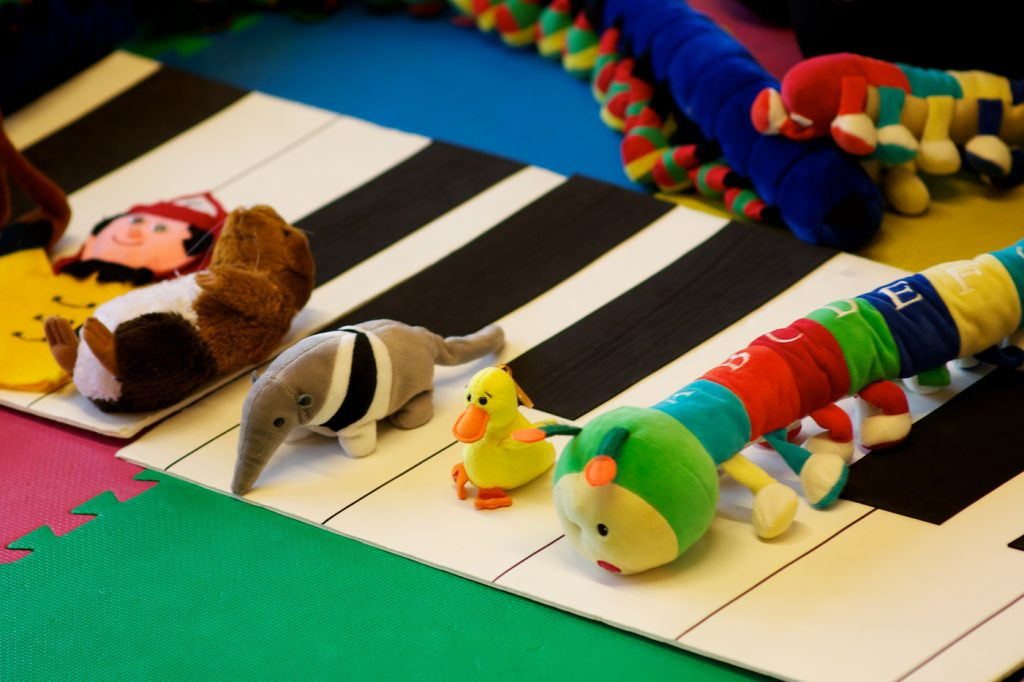 Sunbeams
Children aged 5-6 can start here accompanied by their parents.
Reading Pictured above is a giant keyboard with our cast of critters that we use to introduce note reading- just like in the Sunshine course.
Each note has a critter, a story above its position on the keyboard, and a song about its position on the staff. Students can't wait to meet each new music friend! By the end of the course, students read 2 octaves of staff music.
Harmony Students play scales and pieces in six different keys- hands together also RH alone with Left hand chards. . One of the favorite games is where all the students in a class each playing their own piano, play together through a chord pattern, and every 4 bars they stop and have 8 counts to jump up and race to the next keyboard before continuing.
Ear training They learn ear training, and theory with worksheets and games.
Technique Each MYC level has a special puzzle associated with it where week by week, students fill in a picture that is completed at the year's end. Students have simple exercises to develop body awareness and strengthen their fingers.
Composition Every year students can enter the international composition contest.
Goals With an early start, students starting in this program can complete RCM Grade 1 as early as when they are 8 years old, however, at Colwood Music School, students often complete even earlier.
Price:
(Prices being updated for 2023 TBA)
Registration (Materials) $226.16
Tuition $748.00 for 34 lessons
Time:
Mondays 5 PM- 6 PM
Saturdays : 11:00-Noon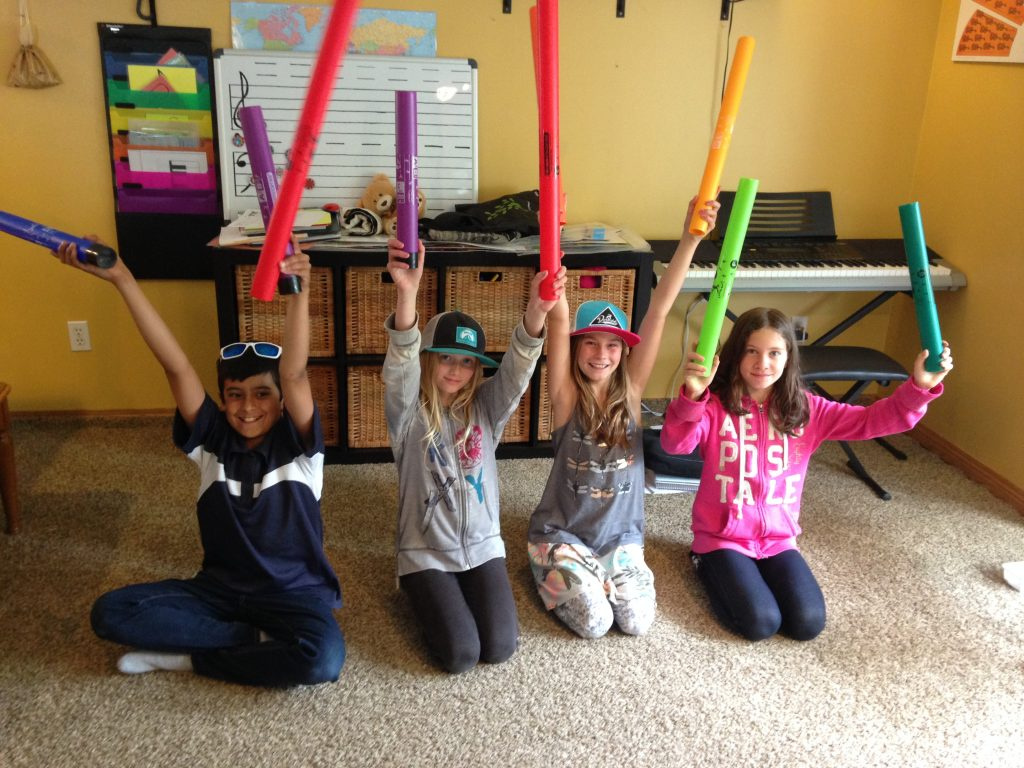 Moonbeams
Children aged 7-10 can start in Moonbeams, and those 10 and older come independently without a parent.
Reading We start directly on the staff and students are quickly learning familiar tunes like Yankee Doodle, Ode to Joy, Christmas songs and jazz and rock style pieces. Students learn to read in both hands, as well as chording.
Ensembles The group experience allows for ensemble work such as with boom whacks (pictured above).
Ear training Theory and composition are all included. Pieces come with instrumental accompaniment so their music sounds pretty grown up from the start.
Goals Here at Colwood Music School we often complete the course early, and encourage students to explore other literature such as pop tunes and jazz. After 3 years, students can complete a RCM grade 1 exam, although often our students complete them earlier. As with the other classes, students have the opportunity to participate in two recitals a year.
Not offered in current year - see Group Classes instead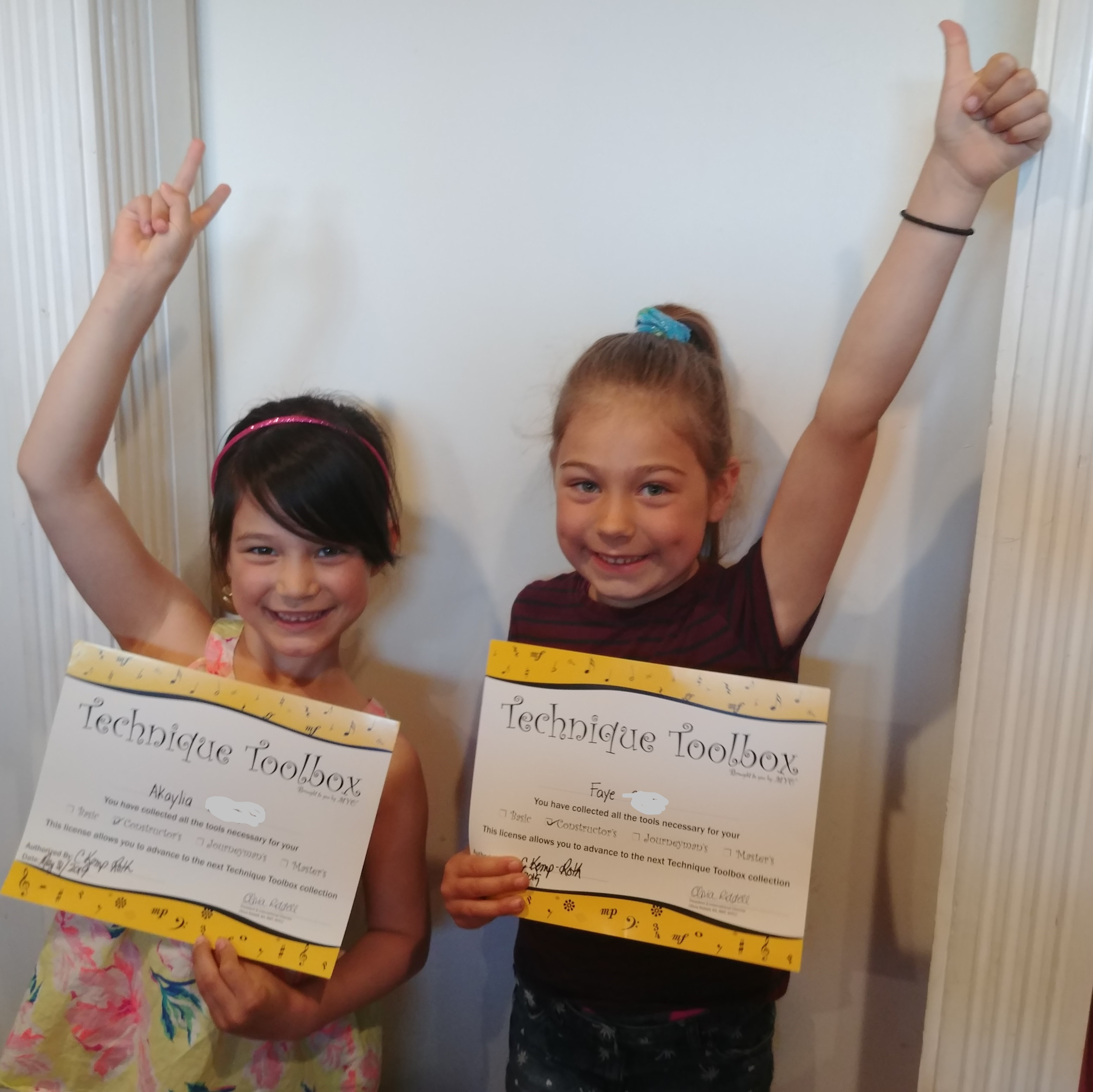 Real West Shore students. When asked "What is your favorite part of MYC?" The answer came back
RECITALS!!!
Students F.B and A.D.
How do MYC students do after MYC? See video below of MYC graduate R. G. performing award winning solo in festival leading to the provincials finals.